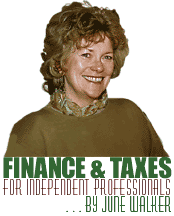 Columns by June Walker:
IPs Face Unique Tax Challenges
Tax Deductions Are There For The Taking
You Say You're Self-Employed -- Will the IRS?
Do You Have a Business or a Hobby?
Proving That You're a Business
Keeping Records -- It's Not Just for Taxes
Three Ways to Expand Your Business Deductions
Can I Deduct Disneyland and Other Questions
Mixing Business with Pleasure and Other Gray Areas
Getting There is Half the Battle
Getting Credit and Taking Allowances
Advertising: Do It, Then Deduct It
The Subtle Art of Advertising Deductions
Billy Bridesnapper's Start-up Saga
Giving Gifts, Taking Deductions
June Walker's sprightly, reader-friendly columns are no longer available on this website. June's most recent columns and articles can now be found at www.junewalkeronline.com.
---
(c) 2000 June Walker. All rights reserved.

We'd love to hear your feedback about this column, or put you in touch with June Walker if you like. You may also like to see her biography.