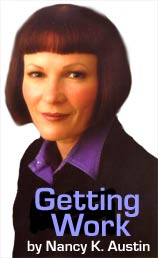 Columns by Nancy K. Austin:
Everyone's a Critic... Even You
List all of Nancy's columns
Visit our other Getting Work Columnist


Don't Say That
Over the last 14 years, I've toured America (and the rest of the world) giving 60 to 75 speeches at all kinds of business confabs and conferences. I've learned that getting good at speechifying is vital -- vital! -- to building and sustaining one's professional identity. It's a fundamental part of doing personal PR. (Remember, as an independent professional, you're going to be telling your story to other people almost every day, so presentation skills matter, big time.) Take it from me: you don't have to be a brilliant speaker -- in, say, JFK's league -- but you do need to feel at home with an off-the-cuff presentation or a formal sales pitch. And while there are lots of cool ways to hone your public speaking skills, one of the best (and seldom discussed, for reasons that will become appallingly clear) is to learn what not to do, from those who've already trampled their way through this thicket. Like me, for instance.
I've spoken to polo-shirted venture capitalists on lush tropical islands and tuxedoed executives at lah-dee-dah awards banquets. I have addressed garbage collectors, software engineers, ski-resort operators, potato-chip makers, four-star generals, entrepreneurs of all stripes, psychiatrists, high-school students, and funeral-home directors. I've had audiences eating out of my hand, and I've had them gang up on me. I've spoken in a gazillion freezing hotel ballrooms, dozens of company conference rooms, at least seven tents, twice via satellite, and once aboard a cruise ship on the Atlantic. Which is merely to say that I've logged enough podium time to have suffered about every disaster that can befall a speaker.
I remember those cursed moments whenever I'm in the zone onstage, just to remind myself that the bliss won't last. Next time, I think, could be a total disaster. Maybe I'll foozle it by mystifying my audience, or just boring them; maybe they'll be too depressed or hungover to listen; maybe the servers will start clearing lunch as I'm starting to speak. Or maybe the lights will go out or the sprinkler system will kick in or the earth will quake just as the microphone croaks and the PowerPoint presentation blows up.
It's always something.
So here are a few of my most memorable disasters -- only a smidgen of the misadventures that happen every day to neophytes and skilled soapboxers alike, in front of audiences large and small. Don't ask whether you'll find yourself in deep yogurt; ask when, and what you can do about it.
Halfway Into Your Story, You Realize It's Been Told Before
I was in front of 650 or so of Midas Muffler's finest, spinning a funny yarn about the power of perception, when I noticed that nobody was laughing. As I waited for their sense of humor to kick in, the explanation for the loud silence hit me: somebody else must have told the same story, and not so very long ago.
Only one man, in the front row, chuckled in the right places. When my presentation was finally out of its misery, he gently confirmed my fears: the speech sucked! His kindness only made me feel worse, and, big surprise, I didn't want to do any public speaking for weeks after.
Now I know enough to stop the story at the first inkling of trouble and find out if the audience has already heard it. Next, I might try to shake us all out of our collective mortification -- and regain my composure -- by asking everybody to take 60 seconds and devise a new ending. That's a tip I picked up from What to Say When You're Dying on the Platform, by Lilly Walters, vice president of Walters International Speakers Bureau. Walters talked to a bunch of podium pundits, who passed along both serious and lighthearted ways to save a presentation. Anybody who has to give any kind of speech should memorize this book first.
You Stumble on the Way to the Podium
There I was, striding confidently to the lectern across a hardwood floor that some hyperactive soul had polished to within an inch of its life. Suddenly my foot slipped, and I nearly went down. The way the audience was gasping, I knew it must have been close. As I sort of moonwalked toward the safety of the lectern, I realized I'd have to say something to reassure them. First I scanned the room and made direct eye contact with as many people as I could. Then I asked, "Is there a doctor in the house?" The line should have been merely adequate, but I happened to be addressing a roomful of orthopedic surgeons. The place went wild. Moral: when you stumble, don't try to be David Letterman. Instead do something -- right away -- to acknowledge your clumsiness. I recovered with that dopey line, and then I delivered a speech focused on four or five crystal clear points. Focusing on your main points is always essential, of course, but never more so than after an unfortunate entrance. It isn't fair, but audiences (of two or two hundred) inevitably wonder what a shaky launch (even when it's not exactly your fault) says about your preparedness. Don't let them go there.
Another Speaker is a Jackass
At a huge trade-association meeting, the presenter before me was a 60-ish self-made success from rural Texas. I didn't know it was possible to stuff so many folksy formulas ("No one can make me think less of me") and so much cornball counsel ("Plan your work and work your plan") into a 40-minute speech. But it was merely hokey until he declared that "country music makes women horny!" While the rest of the audience howled and rose as one to applaud him, I wondered how I was going to follow this act.
Rather than fire off a retort to this guy -- the audience loved him, after all -- I just launched into my speech. An acid comment, while satisfying, would have been the kiss of death. The idea wasn't to make enemies or show how superior I was: I had to show respect for my audience by pushing Ten-Gallon Tex out of my mind and delivering a talk I wouldn't mind telling my mother about the next day.
When the Catastrophe is Irredeemable
A few years back, I arrived in Milan to speak to a smallish group of Italian business leaders. When my host called to confirm the details of my all-day seminar that would begin at 8:00 a.m. the next morning, I seized up. All day? What kind of nutcase was he? I thought that I was supposed to speak for only an hour.
But no such luck. The Italians did, indeed, expect eight hours from little old me. I sniveled for a while, then ordered a pot of espresso, dug out the extra material I always carry just in case, and hunkered down to coax a serious seminar from a short speech. What problem of theirs could I help solve?
Next morning, my refashioned program rolled along until about noon. Just as I was beginning to think I'd salvaged this rocky gig, a beast of a thunderstorm let loose on the city and pitched us into total blackness. No electricity, no slides, no microphone, and -- the deathblow -- no more simultaneous translation.
Half an hour later it was still dark. My host and I ruefully agreed the seminar was doomed, and we called it off. But instead of rushing out the door, everybody stayed for lunch. That gave me a chance to stop feeling sorry for myself and focus entirely on the people who had come to hear me.
With an interpreter at my side, I spoke with as many of the executives as I could, fielded questions, and promised to send along this or that information. After I got back to the States, I sent my host hard copies of all my slides. I never part with my slides, but which was more important: my outline and proprietary information, or my reputation and relationship with the client? The answer was perfectly clear.