News Flash:
USA Today names us a "Hot Site"!
(And to think, we're only three weeks old.)
Books of Interest to Independent Professionals
(What? You work for yourself and you actually have time to read books?)
---
For press coverage of the recent renaming of our talent agency, go to:



A Day in the Life of an Independent Professional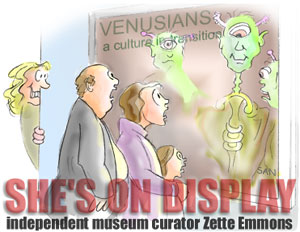 Surely you knew that museum curators can be independent professionals. It's an interesting life, complete with mother goddesses, problem clients (sound familiar?), and a diabetic male cat named... Susan? Don't ask; just read.
The Great Scott, a magician, is used to stunning children and adults by making things appear and disappear. But not even smoke and mirrors can conjure up new clients... Full story Tips

You can invent a name for your solo business, or simply use the one you were born with. We found that IPs disagree on this issue. Full story

A Day in the Life of an IP: When it's hot in the Hamptons, superstar summer residents hire IP landscape designer Elizabeth Lear.
Full story Tips

Recent columns:

June Walker on tax basics:
IP Tax Challenges and Tax Deductions. The clearest IP tax consultant you'll ever read.

San shamelessly freaks out in public. He wants more respect, has strange thoughts about money, is sure everything takes too long because he's so good, and thinks civilization can't possibly exist. We think he needs a good IP shrink.
Taxes and Bombs:
Tale of a Dark Night in April
At least once every year -- usually in April -- IPs have a first hand experience of film noir. Full story
Just Plain Taxes:
You Think You Can File an Accurate Tax Return, Do You?
Unless you think like Al Capone, you've probably already filed your tax returns. Still, the question remains even for the law abiding: "Should I have done it myself, or paid a professional tax preparer to do it?" 1099 speaks with three professionals about the pros and cons of each method. Full story
(ir)regular columns...


John Doe on
marketing for IPs
John Doe? Huh?


client relations and
project management



This week: San
travels back a million years to explore the roots of IP-hood and corporate incompetence. Bring your loincloth.
New every Friday


More great letters from our readers: business names, the "desert" of self-employment, and a complaint about... Agency X?

April's over, and if you were a good little girl or boy and filed your taxes on time, you can ignore this. But if you screwed up and are still having IRS nightmares, here are our picks of Key Web Sites for Tax Panic.