We're Getting Noticed and It's Swelling Our Heads Department:
USA Today names us a 'Hot Site'... Fortune Magazine calls us 'a great little online magazine'... The Mining Company gave us a great review too. Now if we can just figure out how to get the IRS not to notice us...
Our newest feature:
Events for Independent Professionals
(Check it out, and then email us about your event!)
For press coverage of the recent renaming of our talent agency, go to:

A Day in the Life of an Independent Professional: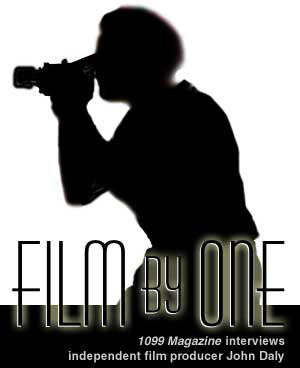 Even in the complex productions of Hollywood, the vision of a single independent professional can be crucial. Full story
---


The psychology of client revisions can get a little... hairy.
Beating The Night Terrors
No work coming in? Living in your own private horror movie? We feel your pain... no, actually, that's baloney. Only you feel your pain. But we do have some advice. Full story Tips
Most IPs know that joining an association can help their networking. But what should you do once you join? Full Story
Surely you knew that museum curators can be independent professionals. It's an interesting life, complete with mother goddesses, problem clients (sound familiar?), and a diabetic male cat named... Susan? Don't ask; just read.
You can invent a name for your solo business, or simply use the one you were born with. We found that IPs disagree on this issue. Full story
A Day in the Life of an IP: When it's hot in the Hamptons, superstar summer residents hire IP landscape designer Elizabeth Lear.
Full story Tips
Classified ads for IPs? The Great Scott, a magician, is used to stunning children and adults by making things appear and disappear. But not even smoke and mirrors can conjure up new clients... Full story Tips
At least once every year -- usually in April -- IPs have a first hand experience of film noir. We found an IP lawyer/accountant who divides his time between murder, bombs, and... tax preparation. Call it IRS noir. Full story
Should you do your own taxes, or have a professional tax preparer do it? 1099 speaks with three professionals about the pros and cons of each method. Full story
April's long gone, and if you were a good little girl or boy and filed your taxes on time, you can ignore this. But if you screwed up and are still having IRS nightmares, here are our picks of Key Web Sites for Tax Panic.
(ir)regular columns...


This week: San
"arms" himself with a theory for manipulating clients
New every Friday


You call yourself "self-employed," but what will the IRS call you? June Walker explains in her trademark clear style.


Client relations and
project management
(We're looking for a permanent columnist for this slot)


(Yep, we're still looking for a marketing columnist. Recommendations?
Email from our readers: Our columnist accused of irresponsibly disturbing the peace... tax status affected by how you're paid... and much more...
Books of Interest to Independent Professionals
New: We've linked our book descriptions directly to Amazon.com in case you'd like to buy any of the books. We've also added new listings.
(What? You work for yourself and you actually have time to read?)