How do you say "Aquent"?
.wav format (26k)
.au format (9.7k)
How do space aliens say "Aquent"?
.wav format (51k)

Recent press reviews of this site:
The San Jose Mercury News calls us a "flashy site worth visiting"... USA Today names us a 'Hot Site'... Fortune Magazine calls us 'a great little online magazine'... and The Mining Company seems to like us too.
Events for Independent Professionals
(Yes, you're welcome to email us about your event. We'll post it as long as it's IP-related.)
For press coverage of the recent renaming of our talent agency, go to: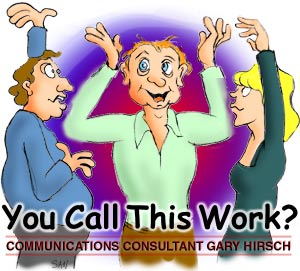 Teaching office workers to freak out and be goofy -- what kind of job is that? Okay, it isn't exactly a "job" -- it's an IP career. One of our "A Day in the Life of an Independent Professional" series. Loosen your shirt collar and read the Full Story.

IP Issues in the News
Proposed Tax Cuts for Self-Employed
Friday, May 28 -- The Associated Press reported that Congressional Republicans are working on a five-year, $30 billion tax-relief package that would aid small business owners and the self-employed by increasing tax deductions for health insurance and business meals. The package would be part of a broader, 10-year, $778 billion tax cut proposal that Republicans will develop over the summer. The proposed deductions would make health insurance costs fully deductible for the self-employed next year, three years earlier than provided for by current law. Business meals would also become 80% deductible for small businesses by 2008.
Congressional Bill Would Refine Employment Definitions
Tuesday, May 25 -- The Wall Street Journal reported today that U.S. Representatives Jerry Kleczka (D., Wis.) and Amo Houghton (R., N.Y.) have sponsored legislation that would refine the distinction between "employees" and "independent contractors." Under the proposed bill, service providers would be classified as employees unless they control their own work; are free to work for multiple clients; and take "entrepreneurial risk." The new bill would displace the current means of distinguishing service providers from employees -- the so-called 'IRS 20 factors" test. No date has been set for a vote on the bill.
Louis Harris Poll Finds That Money Isn't Everything
Tuesday, May 25 -- A Louis Harris survey of more than 1,000 entrepreneurs who are either self-employed or supervise others in small companies revealed that the most important aspect of their jobs is freedom, not money. Of those polled, 12% said they were primarily motivated by a craving for more money, while 23% said they were primarily motivated by a craving for independence. Another 6% said that they wanted to "be my own boss." The poll, which was sponsored by New York's GreenPoint Financial Corp., found that U.S. entrepreneurs tend to define the American Dream in terms of overall independence rather than more narrowly as financial independence.
Yes, we know, you love your clients. Most of them. Sometimes, however, a client crawls out of your nightmare swamp and almost makes you wish you were a wage slave again. Sound familiar? Full story.



Even in the complex film projects of tinsel town, some people work for themselves. Meet well-known film producer John Daly. Full story

Beating The Night Terrors
No work coming in? Living in your own private horror movie? We feel your pain... no, actually, that's baloney. Only you feel your pain. But we do have some advice. Full story Tips
You can invent a name for your solo business, or simply use the one you were born with. We found that IPs disagree on this issue. Full story
A Day in the Life of an IP: Surely you knew that museum curators can be independent professionals. It's an interesting life, complete with mother goddesses, problem clients (sound familiar?), and a diabetic male cat named... Susan? Don't ask; just read.
Professional Associations: Gold Mines or Coal Mines: Most independent professionals know that joining an association can help their networking. But what should you do once you join? Full Story
A Day in the Life of an IP: When it's hot in the Hamptons, superstar summer residents hire IP landscape designer Elizabeth Lear.
Full story Tips
Classified ads for IPs? The Great Scott, a magician, is used to stunning children and adults by making things appear and disappear. But not even smoke and mirrors can conjure up new clients... Full story Tips
At least once every year -- usually in April -- IPs have a first hand experience of film noir. We found an IP lawyer/accountant who divides his time between murder, bombs, and... tax preparation. Call it IRS noir. Full story
Should you do your own taxes, or have a professional tax preparer do it? 1099 speaks with three professionals about the pros and cons of each method. Full story
April's long gone, and if you were a good little girl or boy and filed your taxes on time, you can ignore this. But if you screwed up and are still having IRS nightmares, here are our picks of Key Web Sites for Tax Panic.
(ir)regular columns...


San attends a client meeting and sits smiling while being attacked. Is our house lunatic hiding a masochistic streak?
New every Friday


Are you really running a business -- or is it just a hobby that makes some money?
News Flash: Aquent launches a seminar series for independent professionals. You can read the full details on a special web site, or read summaries on this webzine's own Events page.
Email from our readers: Readers react to hairy arms, critical bastards, Judy Fireman's articles, and much more...
Books of Interest to Independent Professionals
New: We've linked our book descriptions directly to Amazon.com in case you'd like to buy any of the books. We've also added new listings.
(What? You work for yourself and you actually have time to read?)
---
We unveil our newest, previously secret, self-promotional strategy:
If you don't tell your friends about this web site, we'll throw a hissy fit! If you don't bookmark us, we'll rant uncontrollably! (That would be a change, wouldn't it?)
Don't ever say we're not sophisticated marketers...