Resources for Independent Professionals:
IP Issues in the News
Monster Board launches contact service for IPs ...Full story
Champion of Self-Employed Gets MacArthur Fellowship
Sara Horowitz, executive director of Working Today, an advocacy group for independent workers, has been named a 1999 MacArthur Fellow. The fellowship, which is administered by the MacArthur Foundation and comes with no restrictions or requirements, is a stipend paid over five years to "individuals who show exceptional merit and promise for continued and enhanced creative work." ...Full story
IRS to Make Life Tougher for Independent Professionals and Their Clients?
The House of Representatives and the U.S. Senate are considering contradictory bills that would affect who would be considered an independent contractor for tax purposes. The House bill, HR1525, would toughen the requirements and allow the IRS to force more people into the status of "employee." The Senate bill, S344, would broaden the requirements and not allow more IRS regulations in this area. We'll be telling you more about this issue soon.
Other recent news items:
More Men Than Women Working at Home Full story
Louis Harris Poll: Money Isn't Everything Full story
Congressional Bill Refines Employment Definitions Full story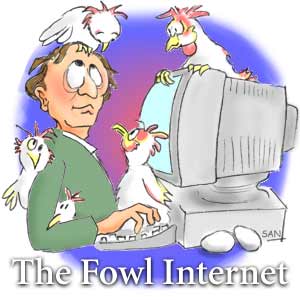 Ten years ago, a chicken coop on a small farm in rural New Hampshire would have housed, if anything, squawking chickens, roosting hens, or fighting cocks. Since 1995, the coop on the knoll behind John Babiarz's Grafton home has hosted a twenty-first century gaggle of noisemakers new to farm country -- computer servers. Full Story
---
| | |
| --- | --- |
| It won't happen often, but every now and then a project will shoot you and your business in a completely new direction. Aquent talks with three IPs about the accounts that changed their businesses. Full Story | Yes, we know, you love your clients. Most of them. Sometimes, however, a client crawls out of your nightmare swamp and almost makes you wish you were a wage slave again. Sound familiar? Full story. |
| People hire personal trainers to keep themselves fit. So do healthcare institutions like hospitals, medical clinics, and advocacy groups. Consultant Matthew McClain is their soft-spoken task master. Full story | Teaching office workers to freak out and be goofy -- what kind of job is that? Okay, it isn't exactly a "job" -- it's an IP career. One of our "A Day in the Life of an Independent Professional" series. Loosen your shirt collar and read the full story. |
Don't Be Bashful: Nobody's saying you have to cruise the town square bellowing your name and phone number. Nobody's saying you shouldn't, either. But if you expect to succeed in self-employment, you'd better make time to market yourself somehow. Full story Tips
Film by One: Even in the complex film projects of tinsel town, some people work for themselves. Meet well-known film producer John Daly. Full story
Naming Your Business: You can invent a name for your solo business, or simply use the one you were born with. We found that IPs disagree on this issue. Full story
Beating The Night Terrors: No work coming in? Living in your own private horror movie? We feel your pain... no, actually, that's baloney. Only you feel your pain. But we do have some advice. Full story Tips
A Day in the Life of an IP: Surely you knew that museum curators can be independent professionals. It's an interesting life, complete with mother goddesses, problem clients (sound familiar?), and a diabetic male cat named... Susan? Don't ask; just read.
Professional Associations: Gold Mines or Coal Mines: Most independent professionals know that joining an association can help their networking. But what should you do once you join? Full story
A Day in the Life of an IP: When it's hot in the Hamptons, superstar summer residents hire IP landscape designer Elizabeth Lear.
Full story Tips
Classified ads for IPs? The Great Scott, a magician, is used to stunning children and adults by making things appear and disappear. But not even smoke and mirrors can conjure up new clients... Full story Tips
Taxes as Melodrama: At least once every year -- usually in April -- IPs have a first hand experience of film noir. We found an IP lawyer/accountant who divides his time between murder, bombs, and... tax preparation. Call it IRS noir. Full story
Should you do your own taxes, or have a professional tax preparer do it? 1099 speaks with three professionals about the pros and cons of each method. Full story
April's long gone, and if you were a good little girl or boy and filed your taxes on time, you can ignore this. But if you screwed up and are still having IRS nightmares, here are our picks of Key Web Sites for Tax Panic.
Nice Work, If You Can Keep It: Client relations and project management. Full story
(ir)regular columns...


What do self-employment, creativity, and junkyards have in common? Nothing, to normal people... but to San...



How do you prove you're a real business if you're losing money? June Walker addresses a thorny tax issue.
(Will the production department please remove this link already? Nobody's interested in seeing past front pages of this zine!)
Email from our readers: Readers ask tax questions, complain about ignorant clients, react to our columnists, and much more...
---
HELP! We really need to know about your reading habits on this site, so we can tailor it more to your needs. How did you find this site in the first place? How often do you visit? What features do you like or hate? What do you do for a living? Write and tell us!
Recent press reviews of this site:
The San Jose Mercury News calls us a "flashy site worth visiting." USA Today names us a "Hot Site." Fortune says we're "a great little online magazine." The Orange County Register, The Mining Company, and About.com all talk about us too.
Advertisement:
"I've been waiting months for the client to pay me, but I'm still cheerful..."
Tell us your secret, will you? Or if your patience runs out and you decide you'd like to get paid now, check out Aquent's
Financial Services
for Independent Professionals!