Resources
for Independent Professionals:
In our Aquent Index survey, freelancers talk about why they like freelancing. In our UnCorporate Commentary on the happy stats, we drag in bosses, sagging bodies, and death. Huh?
IP Issues in the News
Health Insurance May Soon Be 100% Tax- Deductible For IPs, Senate Indicates
The Senate voted 53 - 47 Tuesday in favor of an amendment that would make the cost of health-insurance 100% tax deductible for the self-employed.
Full story
Can You Re- Define That, Please?
These days, many people on Capitol Hill are asking themselves: "Should we make the definition of 'independent contractor' more inclusive or less?
Full story
Other recent news items:
Champion of Self-Employed Gets MacArthur Fellowship
Full story
More Men Than Women Working at Home
Full story
Louis Harris Poll: Money Isn't Everything
Full story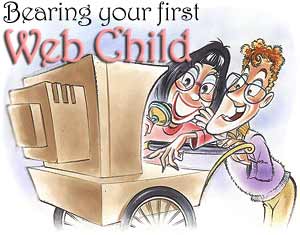 Just "having a Web site" doesn't make you special any more... especially if it's garbage, as most of them are. If you're planning to lose your online virginity soon, here's some basic advice to help you make the most of the (ahem) pregnant possibilities. Full Story
| | |
| --- | --- |
| He's not a professor, but architect Tony Blackett thinks about universities all day long. This is the story of his big gig in Asia. Full Story | Getting work is good, getting paid for it is better still. Getting paid on time is best of all. IPs talk about how to get your client to pay the damned invoice already. Full Story |
| Candy canes in July? Swimsuits in February? A casserole dish with attitude? Prop stylist Judy Singer digs up stuff like this all the time -- and makes a healthy living doing it. Full Story | As Americans increasingly take control of their professional lives, like-minded workers beyond the borders do too -- somewhat more slowly. We review some of the issues facing Canadian and Japanese independent professionals. Full Story |
Nobody's Home: Three traveling freelancers drum up new business, run from tornadoes and hurricanes, and, while abroad, take painstaking care not to be ugly Americans. All in a day's work. Full Story
Saying No: Nobody likes to turn down work, but sometimes it's necessary if you value other things -- your sanity, reputation, and free time, for example. Full Story
Madame IT: The information technology field is hardly glutted with female consultants, but they do exist. We peek into an IT career filled with computer languages, programs, and (surprise) difficult decisions. Full Story
The IP PI: IP Chris Horsch is a private eye -- a real one. Turn off your TV and tune in to this story to find out what these guys actually do.
Bird's Eye View: Gene Boyle of Moab Utah's Slickrock Air Guides is one part fearless aviator, one part trusted guide, one part showman, and 100% independent professional. Full Story
Don't Leave Home Without It: Does your business card say too much? Too little? In the entire realm of things, do these wallet-sized marketing tools really matter? Full Story
The Fowl Internet: Since 1995, the coop on the knoll behind John Babiarz's Grafton home has hosted a 20th century gaggle of noisemakers new to farm country -- computer servers. Full story
The Canvas Man: Tim O'Brien is a well-known IP illustrator who's also a boxer. When was the last time you met an artist who sidelined as a tough guy? Full Story
The Tech Temptation: Computers and cell phones and Palm Pilots and all that other beeping blinking stuff can save you time. Or cost you a lot of it. 1099 talks common sense with three independent professionals about managing the temptations of technology. Full Story
Moments of Decision: It won't happen often, but every now and then a project will shoot you and your business in a completely new direction. Aquent talks with three IPs about the accounts that changed their businesses. Full Story
He Pulls Together Healthcare: People hire personal trainers to keep themselves fit. So do healthcare institutions like hospitals, medical clinics, and advocacy groups. Consultant Matthew McClain is their soft-spoken task master. Full story
Clients You Can Live Without: Yes, we know, you love your clients. Most of them. Sometimes, however, a client crawls out of your nightmare swamp and almost makes you wish you were a wage slave again. Sound familiar? Full story.
You Call This Work? Teaching office workers to freak out and be goofy -- what kind of job is that? Okay, it isn't exactly a "job" -- it's an IP career. One of our "A Day in the Life of an Independent Professional" series. Loosen your shirt collar and read the full story.
Don't Be Bashful: Nobody's saying you have to cruise the town square bellowing your name and phone number. Nobody's saying you shouldn't, either. But if you expect to succeed in self-employment, you'd better make time to market yourself somehow. Full story
Film by One: Even in the complex film projects of tinsel town, some people work for themselves. Meet well-known film producer John Daly. Full story
Naming Your Business: You can invent a name for your solo business, or simply use the one you were born with. We found that IPs disagree on this issue. Full story
Beating The Night Terrors: No work coming in? Living in your own private horror movie? We feel your pain... no, actually, that's baloney. Only you feel your pain. But we do have some advice. Full story
A Day in the Life of an IP: Surely you knew that museum curators can be independent professionals. It's an interesting life, complete with mother goddesses, problem clients (sound familiar?), and a diabetic male cat named... Susan? Don't ask; just read.
Professional Associations: Gold Mines or Coal Mines: Most independent professionals know that joining an association can help their networking. But what should you do once you join? Full story
A Day in the Life of an IP: When it's hot in the Hamptons, superstar summer residents hire IP landscape designer Elizabeth Lear.
Full story
Classified ads for IPs? The Great Scott, a magician, is used to stunning children and adults by making things appear and disappear. But not even smoke and mirrors can conjure up new clients... Full story
Taxes as Melodrama: At least once every year -- usually in April -- IPs have a first hand experience of film noir. We found an IP lawyer/accountant who divides his time between murder, bombs, and... tax preparation. Call it IRS noir. Full story
Should you do your own taxes, or have a professional tax preparer do it? 1099 speaks with three professionals about the pros and cons of each method. Full story
April's long gone, and if you were a good little girl or boy and filed your taxes on time, you can ignore this. But if you screwed up and are still having IRS nightmares, here are our picks of Key Web Sites for Tax Panic.
Nice Work, If You Can Keep It: Client relations and project management. Full story
(ir)regular columns...


The Great Disappearing Fax Trick, plus a list of all columns by San.



I'm traveling to my in-law's to eat and talk business. That's painful enough to deduct, right? Maybe. June Walker tells all.


What other media say about 1099:
Project Cool names us Sighting of the Day.
Working Solo's e-newsletter says we're "filled with solid content and an upbeat attitude" and "well worth a bookmark on your browser."
The San Jose Mercury News calls us a "flashy site worth visiting."
USA Today names us a "Hot Site."
Fortune Magazine says we're "a great little online magazine."
The Orange County Register and About.com (The Mining Company) all talk about us too.
Advertisement:
"I'm so bummed out, man... Janis Joplin's dead, and my cheap suit client won't pay my bill, and I swear I'm about to fReAk OuT!"
Aw, BABY, don't lose your COOL, y'know? Can't get The Big Bad Suit to open his wallet? That's bad news, bro'... but get practical, not bummed! Check out Aquent's solution to your "go with the flow" problems (cash flow, that is). Let us take care of the bread 'n butter stuff so you can hang loose! Wear your best beads and make the groovy scene at
Financial Services
for Independent Professionals!
Yet Another Advertisement:
Looking for More Clients?
Who isn't? Register with Aquent's free new Web-based listing service, Talent Finder.