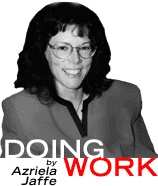 Columns by Azriela Jaffe:
Working Solo vs. Working for The Man
The Case of the Client Who Wouldn't Shut Up
Visit our regular Doing Work columnist, Peter Economy


The Case of the Client Who Wouldn't Shut Up
Q: I have this client, a really sweet woman, but my God can she talk. She calls too often, and stays on the phone too long. A lot of the time she just wants to gossip. I don't want to hurt her feelings by cutting her off -- but I have a business to run. What should I do?
-- Tired of listening in Chicago
A: A four-pronged strategy...
Let Technology Do the Dirty Work for You
Ever hear of Caller ID, that handy gadget that tells you who's calling before you pick up the phone? That's what you need. Install it immediately on your telephone, through your local phone company, for just a few dollars a month. When you see that it's her phone number, you have a choice. If you have the time, or are in the mood, or have a business issue to be worked out, pick up the phone. If not, let the machine or voicemail get it.
How about introducing your loquacious client to the miracle of email? Encourage her to chat with you over the Internet so you can respond to her at your convenience. (Just don't let her use instant messaging with you.) When I offer my coaching services to clients, I contract with them for two hours of phone time a month, and unlimited email. They can email me every day if they want -- it's really not that big a deal. They feel like the pipeline of communication is always open, and I can respond when it's convenient in my schedule, in a fraction of the time it would take by telephone.
Multi-task
If The Wall Street Journal calls you, or a client is discussing a business matter with you, give them your undivided attention. But when the call moves into "chit-chat" mode, that's when multi-tasking kicks in. I save up mindless computer tasks, like enrolling email addresses into my email newsletters, for times like these.
The key to making this work is to think ahead. Let's say you know you are due for a phone call today, or soon, from this woman. Save a task just for her call. For example, my newsletter subscribers don't have to be subscribed any earlier than the next newsletter. I can wait until a convenient time to respond to their email requests. I save several dozen of them, and when my mom calls during the workday (sorry, Mom!), or my toddlers are running around like maniacs, that task rises to the top of my list.
Make a Bargain
Feel uncomfortable about multi-tasking without a client's knowledge or permission? Try this. I had a colleague going through a tough personal crisis who used to call me frequently during the day. I had very little time to spare. I wanted to be there for her, but I had to set some limits to make it work for me. When she called, I'd say something like: "Look, I'm super busy right now, and I'd love to chat with you, but I'll have to be cooking dinner while we talk. Please don't be offended if you hear some dishes clanging in the background."
You can also bargain by saying, "I'd love to talk, but now is a terrible time. Would it work for you to call me back?" (And then name a time that works better for you.) If she has a quick business question, she might say, "That's okay, I don't need to call back later. I just had a question about..." Then you can address the business issue only, with a good excuse to end the call as soon as the question is answered. If she has no real business reason for calling, she might not even call you back later.
Remember the colleague who frequently called me during her crisis? I often asked her to call me back after 4 p.m. my time (she was on the West Coast) because that's when my kids come home from school, and I'm not as focused on work during that time.
Be Honest With Her
My guess is that she has no clue that you are troubled by her calls. Since you act friendly when she calls, it leaves her feeling that she might as well call again. She may even think you appreciate the break in your workday. If you want to change the rules, let her know. Don't wait until you're so aggravated that you snap: "Look, I don't have time to talk with you today. I've got work to do!" Instead, schedule a lunch with her.
Over lunch, let her know that you've got a dilemma you'd like to discuss with her. You value her business, and you like her a great deal. Your work demands are enormous, and you're unable to take time out of the workday to chat with her as much as you'd like to. Appeal to her by saying something like, "You hired me for my quality work and customer service, right? Well, a bunch of other clients like yourself are counting on me right now, and I don't want to let them down. I hope you'll understand if I'm not as available to you by phone as I'd like to be. Email me instead -- that should be easier!"